Welcome to Rainer Security Products
Since 1988 Rainer Security Products has specialised in the supply of the Arrow interchangeable core / masterkey system and associated locking products. Arrow Interchangeable Cores give an authorised user the ability to make lock changes in just 10 seconds! whilst maintaining the integrity of their masterkey system. UK Oval, Euro-Profile, Rim and Scandinavian conversion cylinders, together with a full range of padlocks, custom made cylindrical and mortice locks plus Arrow's range of Revolution Digital Locks are available to accept all manufacturers 6 & 7 pin small format interchangeable cores. Both Restricted and Patented key systems can be specified when using Arrow Interchangeable cores.
Arrow Locks are interchangeable with Best Locks and other American Lock Manufacturers please contact us with your specific requirements and we will be able to provide a cost effect solution.
Featured Product
Medeco® XT is a complete electronic locking system providing Controlled Access, Accountability, Physical Security, and System Management. More than just a way to protect your property, equipment and assets, Medeco® XT is also a business tool that can lead to a substantial return on investment.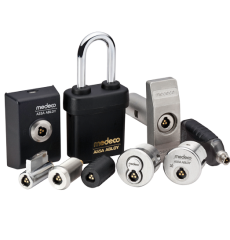 Latest News
Thank you to everyone who has made Rainer Security Products so successful for over 30 years. When the Company was formed in 1988 the chairman Frank Rainer could not have foreseen the direction and growth of the business or the... Read more...
Master Lock have launched a brand new range of Smart Connected Padlocks using bluetooth and a smart phone app. Two versions are available one for internal use and one for outdoors. Click here for further information or to download the data... Read more...