Medeco XT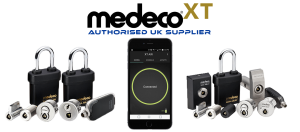 The Future of Commercial Access Control
Rainer Security Products Ltd are proud to be the sole UK supplier of the advanced XT Intelligent Key Eco-System. Complimenting our foundations in Interchangeable Core, Medecos' XT system is the foremost in Accountable access control. The systems' lack of key way creates an immediate visual disadvantage for illicit actions such as vandalism or attempted theft, unlike many competitors.
The XT Intelligent Eco-System simply does away with a key blade, ushering commercial locking systems into the 21st Century. The system gives our customers an auditable, safe, smartphone integrated, programable bluetooth system which goes above and beyond the needs of large commercial organisations.
Building on Medeco's 50-year history of creating high security key control products, the Medeco XT Intelligent Key Eco-System adds security, regulatory compliance and accountability to practically every opening in a fast, efficient way. Medeco XT enhances your business, providing the tools and valuable data you need to be more profitable or to meet compliance requirements. Being the Medeco XT UK supplier, we can cater for all the needs of public sector companies and critical infrastructure, no matter how big or small the order. This is the ultimate electro-mechanical key for commercial use, with its' visually deterrent cylinders and state of the art key design.
Overview:
The Medeco XT Eco-System consists of a robust electronic locking and access control system that is managed by state-of-the-art web-based system software. XT overcomes your current keying issues by keeping your security high even if someone loses a key. XT also adds access control capability in hard to reach areas such as safes, cabinets, remote gates–basically any place you would use a padlock.
In addition, with the new AIM (Access Interface Module) Device, imagination is your only limitation regarding what to control next with your XT key.