Interchangeable Core

As the foremost supplier of interchangeable core lock systems and components within the UK, we bring not only one of the most versatile solutions to your master key schemes, but a veritable mine of knowledge. With over 40 years of experience of interchangeable core in the UK, there's very little that we don't know. In fact not only are we the suppliers to some of the largest corporations on the planet, but we're also a family owned and run business. This means the level of service that we have been providing for over three decades is here for you, whatever the size of scheme you need is.
In addition, we have been instrumental in the creation of newer and improved versions of interchangeable core; having been a key factor in the creation the first 'Euro Profile Interchangeable Core,' or, as we now know it, EPIC.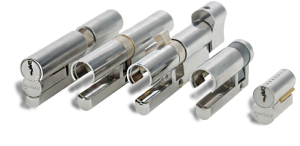 Unique to Rainer Security Products the EPIC Small Format Interchangeable Core design is fully compatible with Euro Profile Locks and Furniture. Clients finally have a solution that requires no filing or modification. This is truly a "one core fits all" policy. EPIC is available across the full range of Medeco, Arrow and Keymark x4, and is now standard at no extra cost.
This approach has been achieved by working in conjunction with Assa Abloy franchises, in order to create a new and improved version the interchangeable core, more suited to UK and European users.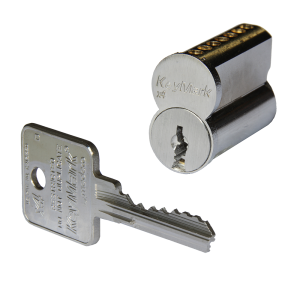 Brought to us by Medeco, X4 is our highest security mechanical interchangeable core master key system that we supply. The Keymark X4 is the patented system designed to protect.
Keymark x4 leads the market in patent protected small format interchangeable cores (SFIC), available in 7 pin EPIC format as standard. With patents extending into 2027 and the ability to expand key systems to four times that of standard SFIC, Keymark X4 offers our highest level of key security and is guaranteed to be an important product to suit your needs.
The patented Pluscore system offers a totally new concept in interchangeable core key control. The system employs a unique core security feature and patented key design. The unique feature is the pin assembly which runs through the centre of the core keyway and only the patented Pluscore key can operate locks fitted with the Pluscore system.
As the dimensions of Pluscore remain the same as standard cores the full range of conversion cylinders and locks can be utilised. Supplies of Pluscore Interchangeable Cores and patented Pluscore keys in the UK are controlled exclusively by Rainer Security Products Ltd. and will require, without exception, written authorisation for all orders prior to despatch.
Written confirmation relating to subsequent changes in authorised personnel will also be required. The 7 Pin patented Pluscore interchangeable core system offers a high level of key security together with the masterkeying potential and the unique benefits already associated with interchangeable cores.