JustIN Mobile

With SALTOs JustIN technology smartphones can be integrated conveniently and beneficially into access control solutions. JustIN Mobile BLE allows doors to be opened with a smartphone. With JustIN mSVN NFC the smartphone turns into an update terminal for credentials.
JustIN Mobile
JustIN Mobile employs Bluetooth Low Energy (BLE) for communicating between the smartphone and electronic locks. The digital key is sent "Over the Air" (OTA) from the ProAccess SPACE management software to an installed JustIN Mobile app at a registered and verified smartphone. The user receives a message that he/she/they has a new key and for which doors they have access rights for. After which, they only need to present the smartphone to the lock and start communication via the Mobile app. All data transmission and the digital key itself are encrypted and secured against cloning.
Users can receive digital keys anytime and anywhere. By using this method, access control solutions gain even more flexibility for issuing and receiving access rights, without sacrificing security.
JustIN Mobile can be used along with or as a replacement of RFID credentials.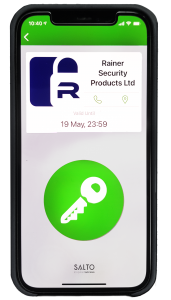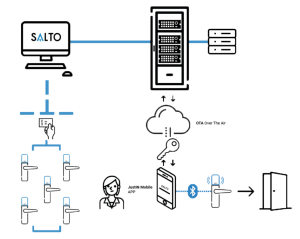 Here's a handy video guide, showing you just how simple the JustIN Mobile app is, and just how many benefits there, to all workforce levels. Towards the end you will also find some useful information about some of the phenomenal features of the ProAccess SPACE software, and how it interacts with the JustIN Mobile App.
Should you have any further questions, please do not hesitate to contact us. We're happy to answer any questions, and of course provide no obligation quotes.