Salto

Rainer Security Products are immensely proud to announce our latest partnership agreement, bringing on SALTO Systems Ltd.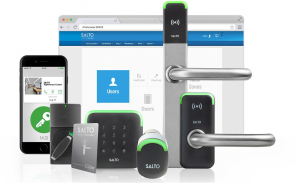 Brought in to compliment our range of mechanical systems, Salto's phenomenal range of Access Control systems includes many of the qualities that we as a supplier install into our customers: Integrity, ease of use and reputation. In particular, Rainer Security has instilled a large investment into the production of the XS4-One, a SaaS (Software as a Service) unit, which is installed as a standalone unit, capable of incorporating our interchangeable core cylinders. This not only gives our customers one of the highest level of access control systems available, but allows for the mechanical cores to be swapped out in the event of an emergency. We are proud to be the foremost supplier of Salto Access Control in Sussex.
The appeal of SALTOs' Access Control systems goes far beyond the astounding technologies and capabilities that they imbed into every piece of lock ware and software that we supply. Being the most sleek, simple and beautifully designed hardware means that your system is not only the highest grade of Access Control, but it also gives you aesthetics far beyond the norm. The XS4 One, for example, comes packed full of the technology you need to ensure a variety of access modes, but also an almost exponential range of bespoke elements; giving you a choice of literally hundreds of different combinations. Together these options create one of the most versatile, intelligent, and yet stunning handle sets on the market.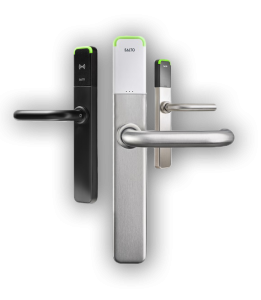 One of our other main factors in choosing SALTO Systems was their ability to incorporate escutcheons which could accept our EPIC (Euro Profile Interchangeable Core) cylinders, thus allowing for the handleset to be given a manual overide, in the rare event that particular staff members of customers have need of a manual key. 
In addition, SALTOs' phenomenal product line has an abundance of accreditations. To name a few:
ISO27001
BSI KM723320
BSI KM731184
ISO14001
ISO9001
1121-CPR-NA5003