High Security Traffic Cabinet Lock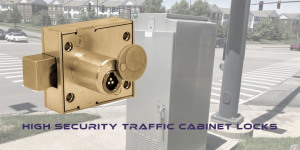 All across the United Kingdom, the flow of traffic in our cities is regulated by Intelligent Traffic System (ITS) cabinets that are located on every street corner. ITS cabinets protect the electronic systems that control traffic lights.
The majority of these cabinets are currently locked with outdated and unsecure locks that have a universal and easy-to-duplicate key. These keys are available to purchase online and without authorization, making these critical points of traffic control vulnerable to vandalism or attack.
With its solid brass construction and a cylinder that resists attacks such as picking, drilling, or bumping, Medeco's Traffic Cabinet Lock provides the high level of physical protection required for ITS cabinets. Additionally, Medeco keys, with thier unique and individual key cuts, can only be duplicated at an authorized Medeco Service Center and only with proper authorization.
The Medeco Traffic Cabinet Lock with a simple retrofit design requiring no hardware changes or door modifications is the quickest, most cost-effective way to add the protection necessary to help eliminate intrusion, and to help secure the advanced equipment contained within these cabinets.
Key Control
The majority of ITS cabinets use a mechanical "#2 key", which can be obtained without authorization from many sources, even online. These keys are uncontrolled, easily duplicated, and there are thousands in circulation.
Traffic Signal Boxes
Intelligent Traffic System (ITS) controls enable access to city and state networks.
Traffic Signals
Tampering with traffic signals could cause significant traffic disruption and loss of life.
Roadside Equipment
Speed monitors, digital signage and other roadside equipment is exposed to tampering.