CU42E0 Controllers

Salto control units are the brains behind the brawn. For when a standalone unit just won't do, that's when Salto CU42EO or CU4200 control units enter the fray.
SALTO's control unit, provided by Rainer Security Products; makes it easier, more aesthetically pleasing and just downright cooler, by bringing superior access control to your facility, thanks to the ability to control and manage multiple doors through one Ethernet connection and one IP address. This means that extending SALTO access control benefits to all those doors where a stand-alone electronic escutcheon cannot be fitted (electric strikes, magnets, barriers, lifts, etc.) is now even easier!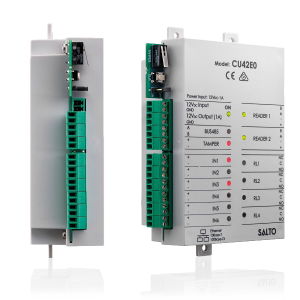 It's worth noting that due to complexity and desirability of the products, there's a longer than normal lead time on CU42E0 Control units, so please do enquire early in your project for availability and pricing!