View full size image
This product has now been discontinued.
Whilst this product has now been discontinued, the information and downloads are still relevant. Please feel free to download the brochures available, or see Yales' NexTouch™ system for a similar stand alone digital lock.
The Arrow Revolution® V1 stand alone touchscreen lock combines the functional elements of a cylindrical lockset with the latest technological designed for electronic aesthetic. Users will benefit from an up to date technological solution that is also quick and easy to install.
A simple interaction with the lock through a voice guided touch keypad, making day to day use and programming easy. The Revolution® V1 is recommended for healthcare facilities, offices, retail environments, multi-family, hospitality, government facilities as well as schools and colleges. It provides a traffic control solution for areas requiring restricted access.
Certification
All Arrow Revolution® Stand-alone Touchscreen Locks are UL/cUL listed for use on 3 hour, A label or lesser doors.
ANSI A117.1 Accessibility Code
California State Reference Code for levers returning to within 1/2″ (12.7mm) of door surface
Federal Specification FF-H-106C
ANSI/BHMA A156.2, Series 4000, Grade 1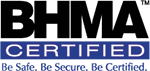 ADA/Americans with Disabilities Act:
Acceptable Door Hardware: Section 4.13.9
Handles, pulls, latches and other operating devices on accessible
doors shall have a shape that is easy to grasp with one hand and
does not require grasping, tight pinching or twisting of the wrist
to operate. Lever operated mechanisms, push-type mechanisms
and "U" shaped handles are acceptable designs.
Features
Electronic Elements
Stand-alone touchscreen access locking device
Interactive voice-guided programming
Trilingual (English, Spanish & French)
Silent mode option
Lockout mode
Passage mode
Auto re-lock
Feature access through keypad programming, 4-12 digit user pin codes
Up to 255 unique user codes and 1 master code
Visual verification of pin code programming
Key override option
4 AA batteries (1 year life)
Mechanical Components
Weather Resistant
Uses standard Arrow

®

 cylinders available in AR and CS keyways
Also available in Small Format Interchangeable Core Prep
Freewheeling lever disengages the lever when handle is locked
ANSI/BHMA A156.2, Series 4000, Grade 1
UL Listed for use on fire doors
ADA compliant levers
Install lock and latch with only 5 screws
Field reversible
Door Prep: Standard 161 prep with one additional 1/2″ hole
Backset: 2-3/4″ standard also available in 2-3/8″ backset
Handing: Field reversible
Door Thickness: 1-3/8″ and 1-3/4″
Latch: Stainless steel with 1/2″ throw standard. Latch housing is steel, zinc dichromate finish for corrosion resistance
Latch Front: Stainless steel 2-1/4″ x 1-1/8″, 1/8″ in 2″
Exposed Trim: Levers are pressure cast zinc
Strikes: Stainless steel ANSI A156.115
Handling: Non-handed; levers operate bi-directionally
Packaging: 1 per box, 3 per case
Warranty: Three-year limited
Finishes: US3, US10BE, US26D
Functions: V1-51 key override