View full size image
Arrow GL Series Grade 1 heavy duty levers offer an economically pleasing solution for ADA compliance. The GL solution is designed with the installer in mind, providing fewer subcomponents to allow for an easier to install system. Simply put, the GL Series will be your number one choice when economy is your first priority.
Certification
ANSI/BHMA A156.2, Series 4000, Grade 1
Underwriters Laboratories (UL and CUL) listed for use on 3 hour, A label single swinging doors.
Federal Specification FF-H-106C
ANSI A117.1 Accessibility Code
California State Reference Code–for levers returning to within 1/2″ (12.7mm) of door surface.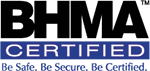 ADA/Americans with Disabilities Act:
Acceptable Door Hardware: Section 4.13.9
Handles, pulls, latches and other operating devices on accessible doors shall have a shape that is easy to grasp with one hand and does not require grasping, tight pinching or twisting of the wrist to operate. Lever operated mechanisms, push-type mechanisms and "U" shaped handles are acceptable designs.
Features
Housings : Interlocking lever tubes are made from dichromate plated steel. The tubes are attached to the rose insert. This offers fantastic support for a ridged feel without excess movement. Standard bearing sleeves used on most other Arrow lever series are not used on the GL. Requires standard 2-1/8″ (53.97mm) bore through door.
OverDrive™: Freewheeling lever action occurs when latch retraction mechanism disengages from lever handle when handle is locked. Built-in stops in the rose insert prevent lever from traveling beyond approximately 70 degrees.
Backset: 2-3/4″ (69.85mm) standard.
Door Thickness: 1-3/8″ (34.92mm) to 2″ (50.8mm).
Latch: Stainless Steel with 1/2″ (12.7mm) throw standard. Latch housing is steel, zinc dichromate finish for corrosion resistance. 1″ (25.4mm) bore in edge of door is required. Additional latch information below:
| | | | |
| --- | --- | --- | --- |
| Arrow P/N | Backset | Type | Size |
| GL71 | 2-3/4″ | Guarded | 1-1/8″ |
| GL73 | 2-3/4″ | Unguarded | 1-1/8″ |
| GL70* | 2-3/8″ | Guarded | 1″ |
| GL72* | 2-3/8″ | Unguarded | 1″ |
| GL81* | 3-3/4″ | Guarded | 1-1/8″ |
| GL83* | 3-3/4″ | Unguarded | 1-1/8″ |
| GL91* | 5″ | Guarded | 1-1/8″ |
| GL93* | 5″ | Unguarded | 1-1/8″ |
* Available as parts only
Latch front: Stainless steel. 2-1/4″ (57.15mm) x 1-1/8″ (28.57mm), 1/8″ (3.175mm) in 2″ (50.8mm).
Strike: Stainless steel. ANSI A115.2, 4-7/8″ (123.82mm) x 1-1/4″ (31.75mm) curved lip strike standard.
Handing: Non-handed. Levers operate bi-directionally.
Mounting: Thru-bolts within 2-1/8″ (53.97 mm) cross bore. Contains two support plates which secure to face of door as well as accept thru–bolts from inside rose assembly.
Exposed Trim: Levers are pressure cast zinc. Streamline rose scalp of brass or bronze complements other series of lever locks.
Rose Inserts: Contain coil spring which is a permanent assembly within rose insert. Inside and outside rose scalps are retained by dimples that create an interference fit with the rose inserts. There are no special retention features added to the rose insert that align the scalp.
Finish: US26D, US3 & 10B
Cylinder: SFIC Prep standard, KIL