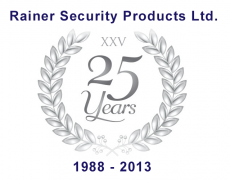 On 6th April 1988 Rainer Security Products was incorporated by Frank Rainer as a small family business set up to supply the very clever Arrow Interchangeable Core Master Key System.
No one including himself could have foreseen the success and growth the Company has experienced over the years or that 25 years on we would still be providing the same high quality level of products and services to such a wide range of customers throughout the United Kingdom and beyond into Europe.
From our humble beginning in a basement office in Arundel to our purpose built warehouse and office facility we are very proud of what we have achieved over the past quarter of a century and look forward to further expansion and development over the next 25 years!
Thank you for your continuing support.